THE PASTELS SHOP "HOLO" Sea Cucumber Rejuvenation First Ampoule 10ml/15ml/50ml
Regular price

RM 0.00

Sale price

RM 79.00
Share
Product Description
Introducing THE PASTELS SHOP "HOLO" Sea Cucumber Rejuvenation First Ampoule – Your Path to Radiant and Youthful Skin (4th Generation!)
A triple function first ampoule made from natural origin Sea Cucumber that helps to reduce acne, rejuvenate skin texture, and helps toning up skin pigmentation or dark sports. Use daily right after toner, before essence, or serum as the first layer of treatment.
Experience the power of marine beauty with THE PASTELS SHOP "HOLO" Sea Cucumber Rejuvenation First Ampoule. This versatile ampoule is available in three convenient sizes (10ml, 15ml, and 50ml) and is formulated with the essence of sea cucumber, along with a blend of skin-loving ingredients, to help you achieve a rejuvenated, radiant complexion. Unlock the secret to timeless beauty with this exceptional skincare product.
Key Features:
Sea Cucumber Essence: Enriched with Cucumaria Frondosa Extract, derived from sea cucumbers, known for their regenerative properties. Sea cucumber extract is a source of nourishment for your skin, promoting rejuvenation and a youthful glow
Skin Soothing: Infused with Hamamelis Virginia (Witch Hazel) Extract and Aloe Barbadensis Leaf Extract, this ampoule soothes and calms your skin, reducing redness and irritation.
Mushroom Extract: Fome Officinalis (Mushroom) Extract helps improve skin texture and tone, leaving your complexion looking smooth and refined.
Brightening: Alpha Arbutin and Ascorbyl Tetraisopalmitate work together to address uneven skin tone and promote a brighter, more luminous complexion.
Hydration and Nourishment: Glycerin and a carefully selected blend of botanical extracts provide intense hydration and nourishment, leaving your skin feeling soft and supple.
Allantoin: This ingredient helps to further soothe and moisturize the skin, contributing to a smoother and healthier appearance.
Easy Application: The ampoule is easily absorbed into the skin and can be seamlessly incorporated into your existing skincare routine.
How To Use
After cleansing and toning, apply a few drops of "HOLO" Sea Cucumber Rejuvenation First Ampoule to your face and neck.
Gently pat the ampoule into your skin until fully absorbed.
Follow with your favorite moisturizer and sunscreen (if used in the daytime).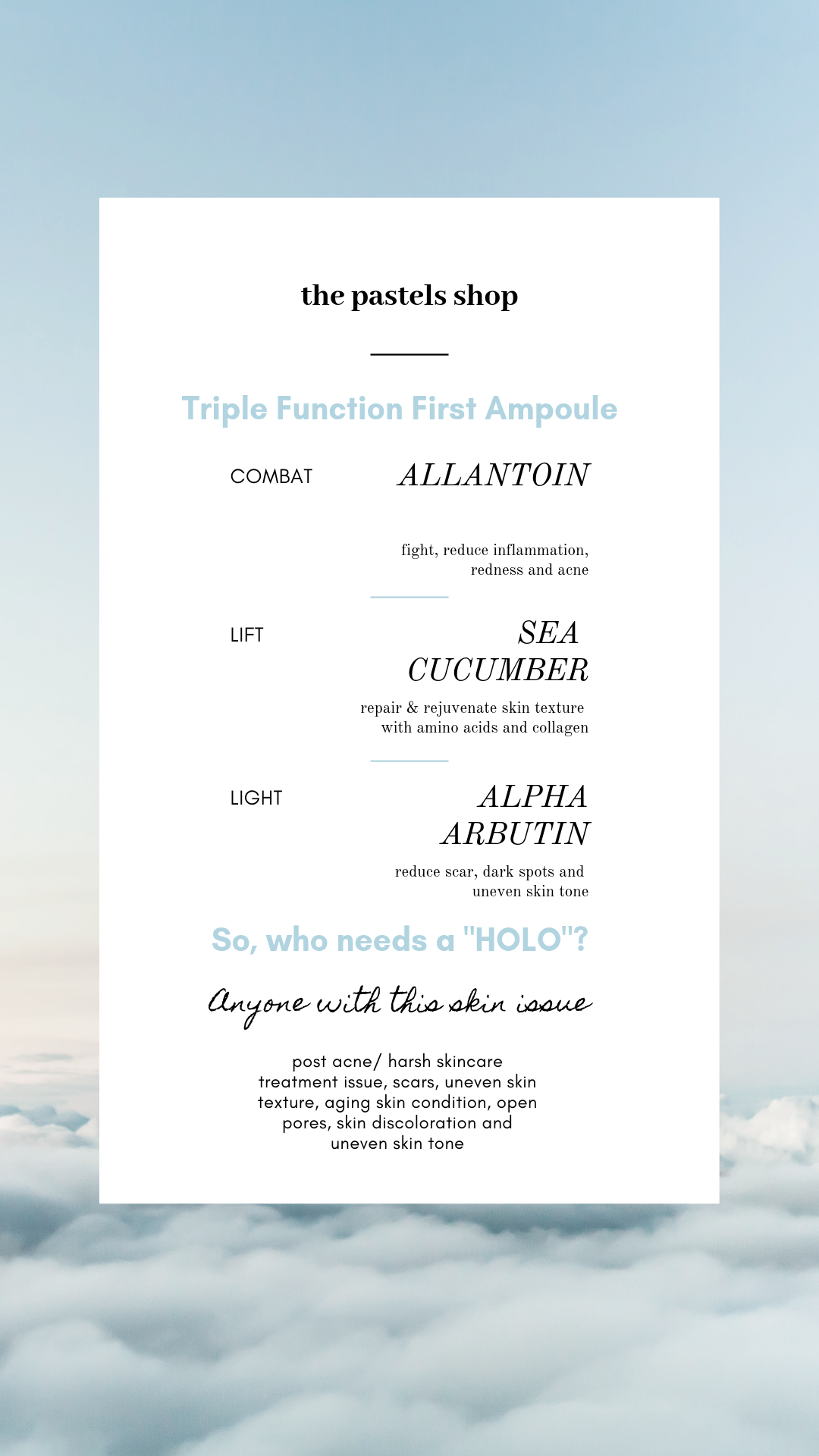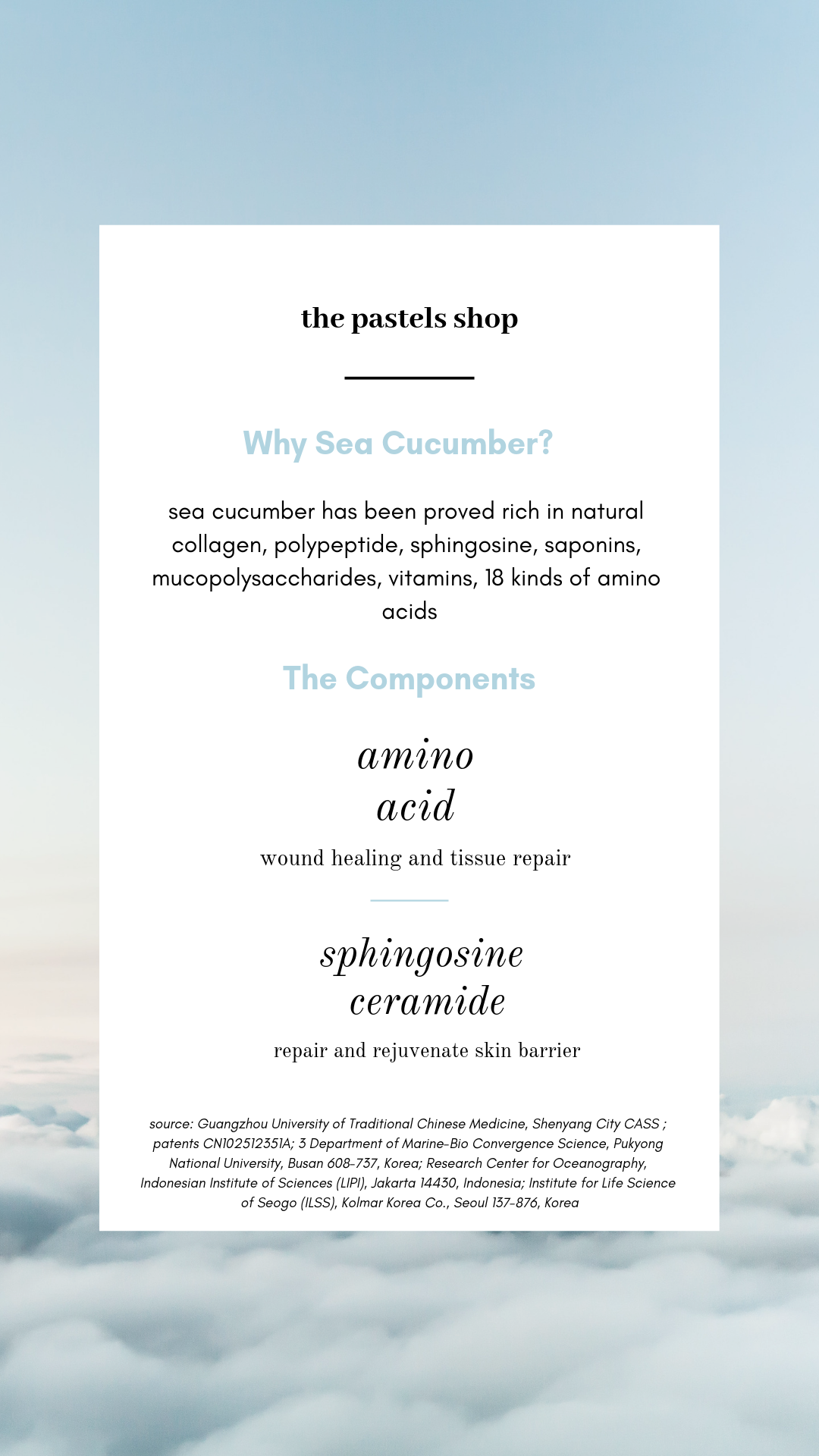 Ingredients
Aqua, Glycerin, Cucumaria Frondosa Extract, Hamamels Virginia (Witch Hazel) Extract, Fome Officinalis (Mushroom) Extract, Camellia Sinensis Leaf Extract, Alpha Arbutin, Ascorbyl Tetraisopalmitate, Aloe Barbedensis Leaf Extract, Allantoin, Acrylates/C10-30 Alkyl Acrylate Crosspolymer, Phenoxyethanol, Ethyhexylglycerin
EWG
CIR
Ingredient Name & Cosmetic Functions
Notes

1

Water
(Solvent)



2

A

Glycerin
(Denaturant,Fragrance,Hair Conditioning,Humectant,Skin Protecting,Viscosity Decreasing Agent,Perfuming,Solvent)
Good for Dry Skin

1

Cucumaria Frondosa Extract
(Skin Conditioning)



1

Hamamelis Virginiana (Witch Hazel) Extract
(Skin Conditioning,Hair Conditioning,Soothing,Cosmetic Astringent)
Good for Oily Skin

Fomes Officinalis (Mushroom) Extract



1

B

Camellia Sinensis Leaf Extract
(Antimicrobial,Antioxidant,Astringent,Emollient,Humectant,Masking,Skin Conditioning,Skin Protecting,Tonic,Uv Absorber)
Good for Oily Skin

1

Alpha-Arbutin
(Skin Conditioning,Antioxidant)
Brightening

1

Ascorbyl Tetraisopalmitate
(Skin Conditioning,Emollient,Antioxidant)
Brightening Fungal Acne Trigger
1

3

B

Aloe Barbadensis Leaf Extract
(Skin Conditioning,Emollient,Humectant)
Good for Sensitive Skin

1

A

Allantoin
(Skin Conditioning,Skin Protecting,Soothing)
Good for Oily Skin Good for Sensitive Skin

1

Acrylates/C10-30 Alkyl Acrylate Crosspolymer
(Viscosity Controlling,Emulsion Stabilising,Film Forming)



4

A

Phenoxyethanol
(Fragrance,Preservative)



1

A

Ethylhexylglycerin
(Skin Conditioning,Deodorant)