HEIMISH All Clean Balm
Regular price

RM 0.00

Sale price

RM 45.90
Share
Shipping Terms
Ready Stock: 3-7 working days
Pre Order: 10-14 working days
Product Description
Natural, Paraben-Free and Hypoallergenic! Ideal for all skin types, especially those with sensitive skin. Heimish All Clean Balm goes on as a solid balm, transforms into a silky oil cleanser on the skin then becomes milky while rinsing. The soft and lightweight texture effortlessly removes makeup and residue without stripping of skin's natural oils. Formulated with citrus herb oils to naturally brighten and nourish skin.
Daily cleanser for removing heavy makeup easily
Spa cleanser with natural aroma oil
Natural vegetable ingredients included for deep cleansing
3-Step transformer texture (Balm-Oil-Milk)
De-stress at the end of the day and pamper your skin with Heimish's All Clean Balm, a hypoallergenic cleanser that'll whisk away makeup, residue, and impurities all down the drain. Containing nourishing ingredients, this balm melts into the skin and emulsifies into a milky liquid with water, removing even the most stubborn of waterproof makeup (mascara, we're looking at you!), while soothing and keeping the skin moisturized. The result? Clean, supple skin that feels comfortable and is bouncy to the touch.


How to use
Use a spatula to scoop a small amount and massage balm over dry skin and add a splash of tepid water to turn this cleanser into a milky fluid and then continue massaging and rinse it with water.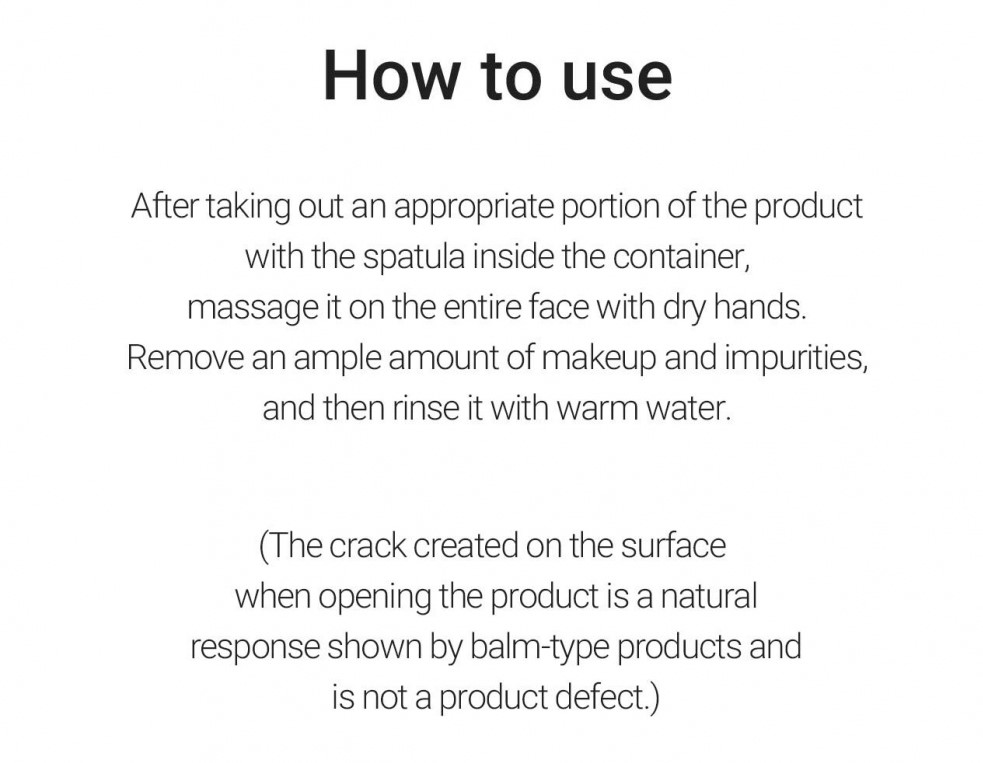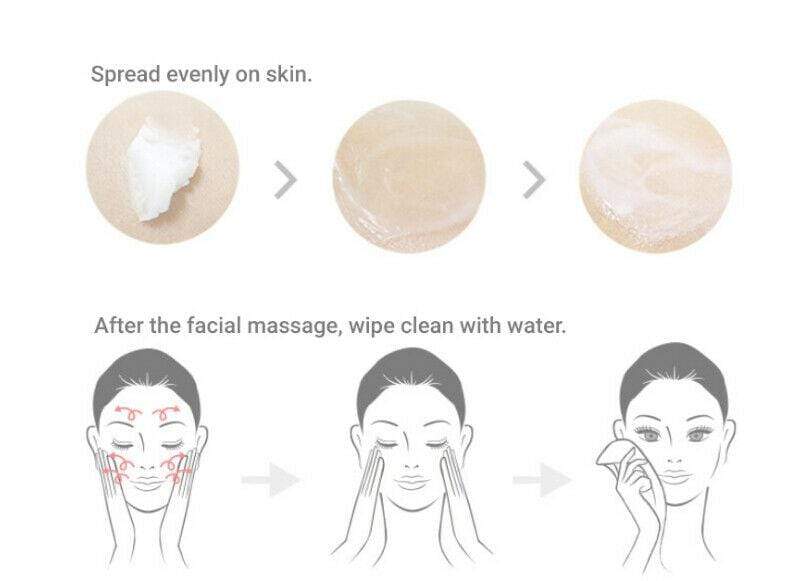 Ingredients
Ethylhexyl Palmitate, Cetyl Ethylhexanoate, Peg-20 Glyceryl Triisostearate, Polyethylene, Peg-8 Isostearate, Butyrospermum Parkii (Shea) Butter, Cocos Nucifera (Coconut) Fruit Extract, Citrus Aurantifolia (Lime) Fruit Extract, Freesia Refracta Extract, Iris Versicolor Extract, Jasminum Officinale (Jasmine) Extract, Lilium Tigrinum Extract, Leontopodium Alpinum Extract, Nelumbium Speciosum Flower Extract, Narcissus Pseudo-Narcissus (Daffodil) Flower Extract, Rose Extract, Citrus Aurantium Dulcis (Orange) Peel Oil, Lavandula Angustifolia (Lavender) Oil, Pelargonium Graveolens Flower Oil, Amyris balsamifera Bark Oil, Citrus Paradisi (Grapefruit) Peel Oil, Eucalyptus Globulus Leaf Oil, Melaleuca Alternifolia (Tea Tree) Leaf Oil, Juniperus Mexicana Oil, Boswellia Carterii Oil, Citrus Aurantium Bergamia (Bergamot) Fruit Oil, Tocopheryl Acetate (Vitamin E), 1,2-Hexanediol, Water, Butylene Glycol, Citric Acid, Phenoxyethanol, Ethylhexylglycerin
*Please refer to the ingredients list on the product packaging for the most accurate list of ingredients.
EWG
CIR
Ingredient Name & Cosmetic Functions
Notes

1

B

Ethylhexyl Palmitate
(Skin Conditioning,Perfuming,Emollient,Fragrance)
Bad for Oily Skin Fungal Acne Trigger Comedogenic Rating (4)

1

B

Cetyl Ethylhexanoate
(Skin Conditioning,Emollient)



3

PEG-20 Glyceryl Triisostearate
(Skin Conditioning,Emollient,Surfactant,Emulsifying)
Fungal Acne Trigger

1

A

Polyethylene
(Viscosity Controlling,Viscosity Increasing Agent,Emulsion Stabilising,Binding Agent,Film Forming,Abrasive,Bulking Agent,Adhesive)



3

PEG-8 Isostearate
(Surfactant,Emulsifying,Sufactant)



1

A

Butyrospermum Parkii (Shea) Butter

Bad for Oily Skin Fungal Acne Trigger

Cocos Nucifera (Coconut) Fruit Extract




3

B

Citrus Aurantifolia (Lime) Fruit Extract




1

Freesia Refracta Extract
(Skin Conditioning)



1

Iris Versicolor Extract
(Masking,Emollient,Tonic)



2

Jasminum Officinale (Jasmine) Extract
(Skin Conditioning,Masking,Fragrance,Soothing,Moisturising,Skin-Conditioning Agent -Occlusive)



Lilium Tigrinum Extract
(Skin Conditioning)



1

Leontopodium Alpinum Extract
(Skin Conditioning)



1

Nelumbium Speciosum Flower Extract
(Skin Conditioning)



1

Narcissus Pseudo-Narcissus (Daffodil) Flower Extract
(Skin Conditioning)



1

Rose Extract
(Skin-Conditioning Agent - Occlusive)



2

B

Citrus Aurantium Dulcis (Orange) Peel Oil
(Skin Conditioning)



1

Lavandula Angustifolia (Lavender) Oil
(Skin Conditioning,Fragrance)
Bad for Sensitive Skin

1

Pelargonium Graveolens Flower Oil
(Masking)



1

Amyris Balsamifera Bark Oil
(Masking,Perfuming)



1

Citrus Paradisi (Grapefruit) Peel Oil

Bad for Sensitive Skin

2

Eucalyptus Globulus Leaf Oil
(Skin Conditioning,Perfuming)
Bad for Sensitive Skin

1

Melaleuca Alternifolia (Tea Tree) Leaf Oil
(Perfuming,Fragrance,Antioxidant)
Acne-Fighting Bad for Sensitive Skin

1

Juniperus Mexicana Oil
(Masking,Fragrance)



1

Boswellia Carterii Oil
(Masking,Tonic)



2

Citrus Aurantium Bergamia (Bergamot) Fruit Oil
(Masking,Fragrance)



3

A

Tocopheryl Acetate (Vitamin E)
(Skin Conditioning,Antioxidant)
Anti-Aging

1

A

1,2-Hexanediol
(Solvent)



1

Water
(Solvent)



1

A

Butylene Glycol
(Solvent,Skin Conditioning,Masking,Fragrance,Humectant,Viscosity Controlling,Viscositydecreasing Agent)
Good for Dry Skin Comedogenic Rating (1)

2

A

Citric Acid
(Masking,Fragrance,Chelating Agent,Ph Adjuster,Buffering Agent)
Anti-Aging Bad for Sensitive Skin

4

A

Phenoxyethanol
(Fragrance,Preservative)



1

A

Ethylhexylglycerin
(Skin Conditioning,Deodorant)