Ini adalah Artikel pertama yang Pastels tulis di sini, jadi elok rasanya jika Pastels bawa anda semua berjalan-jalan di Pejabat Pastels terlebih dahulu. Di sini, banyak masa dihabiskan untuk memikirkan tentang formulasi kosmetik, membaca info, jurnal berkaitan bahan dalam kosmetik, menghasilkan rekaan bagi produk-produk di bawah keluaran Pastels Originals, dan banyak lagi. Pendek kata, ini adalah 'Ruang Kreatif' untuk Pastels. Pasti ramai yang sudah lihat melalui Twitter dan juga Instagram. Namun bagi yang belum...boleh baca di sini kerana Pastels ceritakan dengan lebih details, khas untuk anda semua.
Sebenarnya, ruang ini terbiar bersepah sebelum ini disebabkan kekangan masa untuk mengemas dan menyusun atur, namun semasa PKP baru-baru ini, Pastels menghabiskan masa yang banyak di sini. Jadi, mengapa tidak dihias dengan elok dan dikemas dengan baik?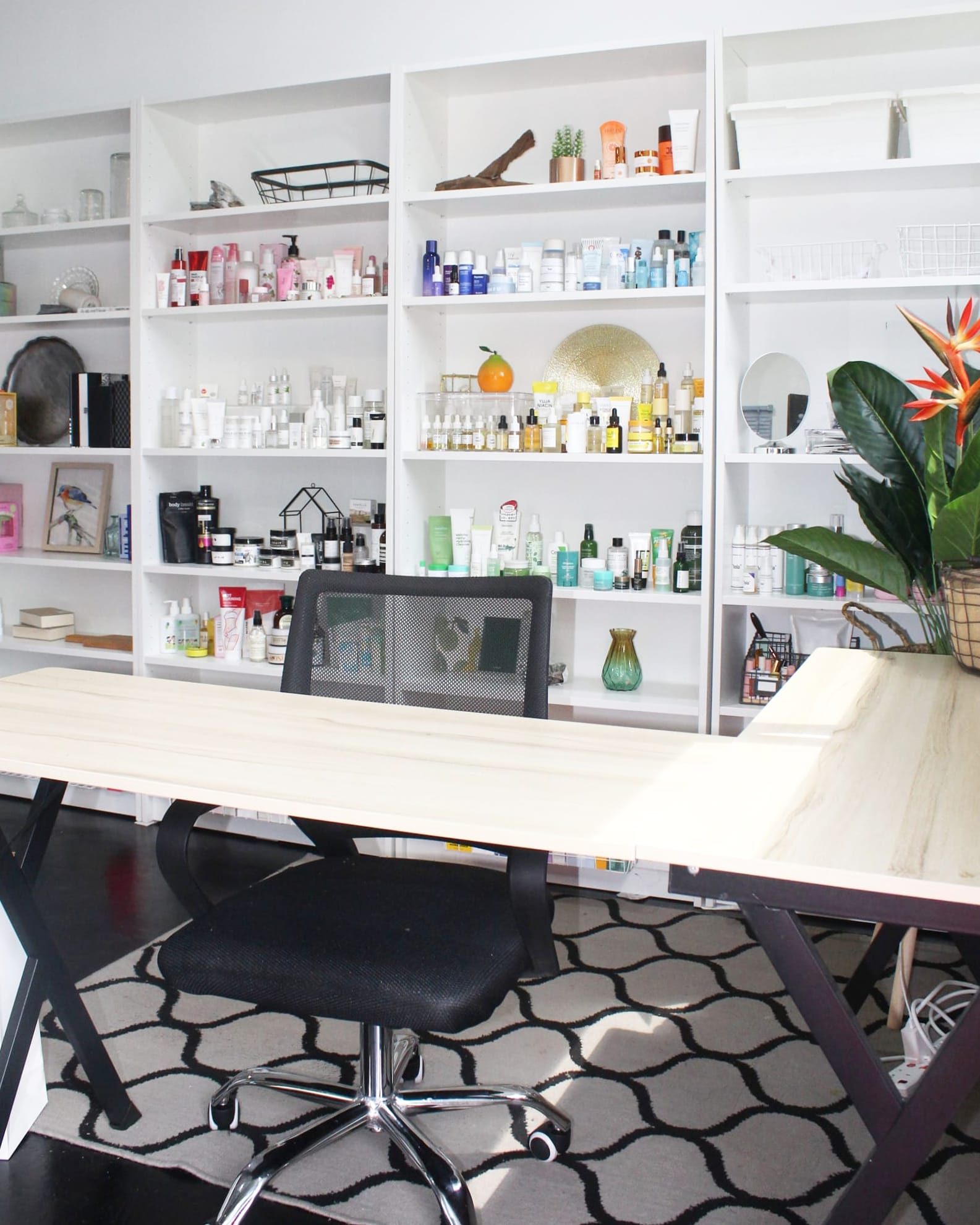 Pastels sukakan segalanya tentang ruang ini. Pengudaraan, pencahayaan dan suasana yang tenang. Disebabkan ini adalah tempat yang bakal digunakan untuk rakaman IG TV/ Youtube/IG Live di masa hadapan, jadi pencahayaan semulajadi sangat penting.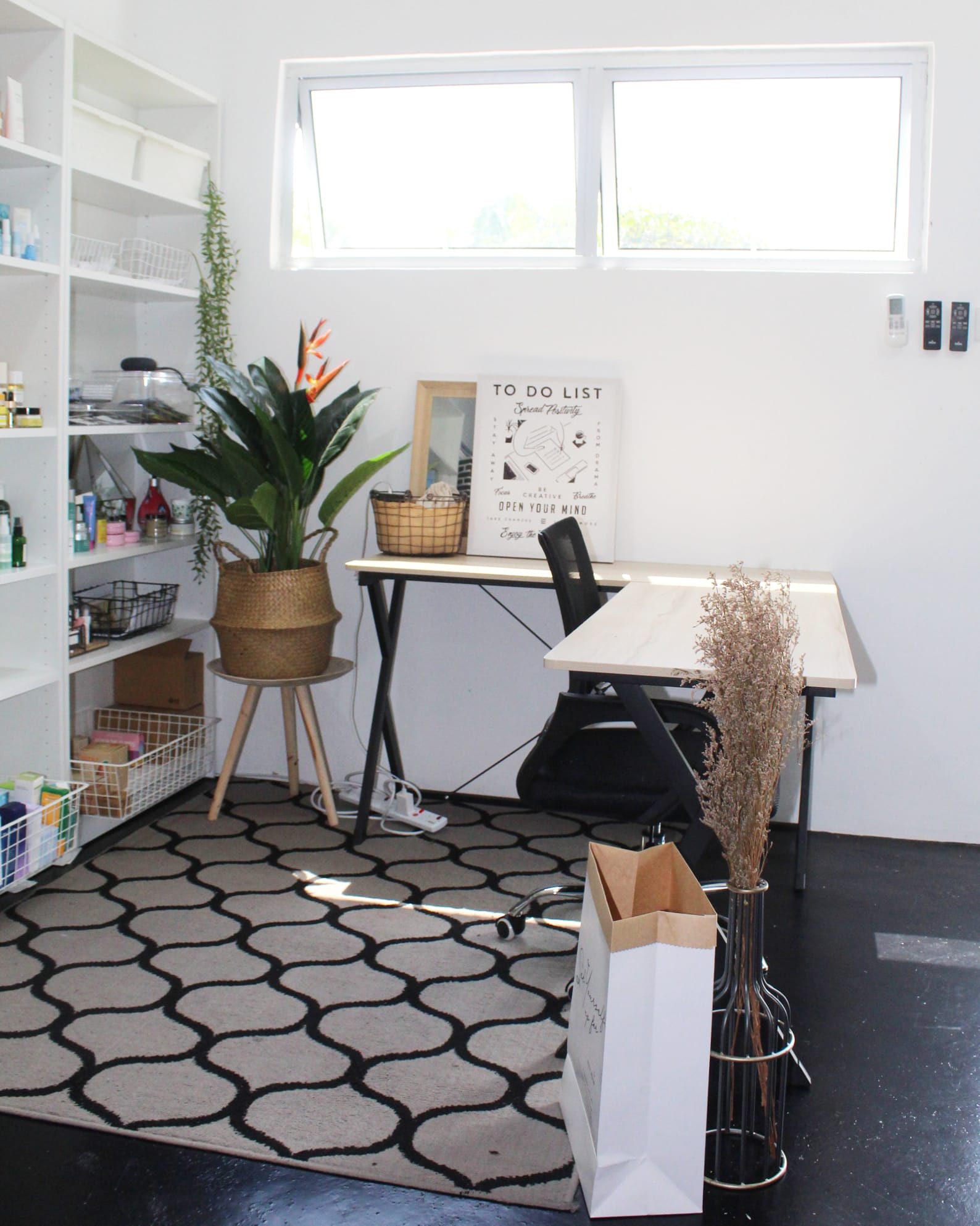 Disebabkan ruang ini menyimpan pelbagai jenis kosmetik, maka ia haruslah sentiasa kering, tidak terlalu sesak dengan dekorasi, bersih dan kemas. Hiasan yang digunakan juga tidak berlebih-lebih dan sekadar perlu. Bahkan segala hiasan di sini fungsinya 2 dalam 1 iaitu - sebagai hiasan dan juga Props dalam fotografi produk-produk di The Pastels Shop.
Kami adalah syarikat yang sangat kecil, jadi bagi memastikan anjakan kewangan syarikat pada tahap memuaskan, maka segala usaha haruslah dimaksimakan dengan kos yang minimal. Oleh itu, ya jurufoto di The Pastels Shop dari dahulu sehinggalah ke harini adalah Pastels sendiri. Setiap jurufoto pasti ada gaya penyampaiannya yang tersendiri. Begitu juga Pastels. Rak putih bersih dan disusun kemas adalah satu 'santapan enak' buat mata yang memandang dan amat bersesuaian dengan citarasa Pastels dari sudut fotografi.
Produk-produk juga disusun kemas mengikut kod warnanya sendiri bagi meminimumkan visual. Almaklumlah, apabila kita ada terlalu bahan produk, dengan pelbagai label dan jenama...jika dicampur aduk pasti akan mengelirukan mata yang memandang. Mungkin ada yang berwarna putih ditenggelami oleh warna terang yang lain, ada yang terlalu terang sehingga mewujudkan kontra yang menyakitkan mata. Jadi, jika disusun begini, tiada produk yang akan mengatasi visibility produk lain.
Pastels amat menghargai usaha dalam pembuatan produk. Dari formulasi, bungkusan hinggalah kotak, segalanya memerlukan usaha dan ketelitian yang tinggi. Tambahan pula, pada kotak ini selalunya dipenuhi dengan info menarik berkaitan produk, jadi sayang jika dibuang begitu sahaja. Jika perasan pada kotak HOLO Rehabilitation Kit, infonya penuh, bukan? Ya, sememangnya Pastels mahukan sebegitu. Pastels mahu pelanggan menghargai kotak itu, sebagaimana Pastels menghargai kotak-kotak yang berada di sini.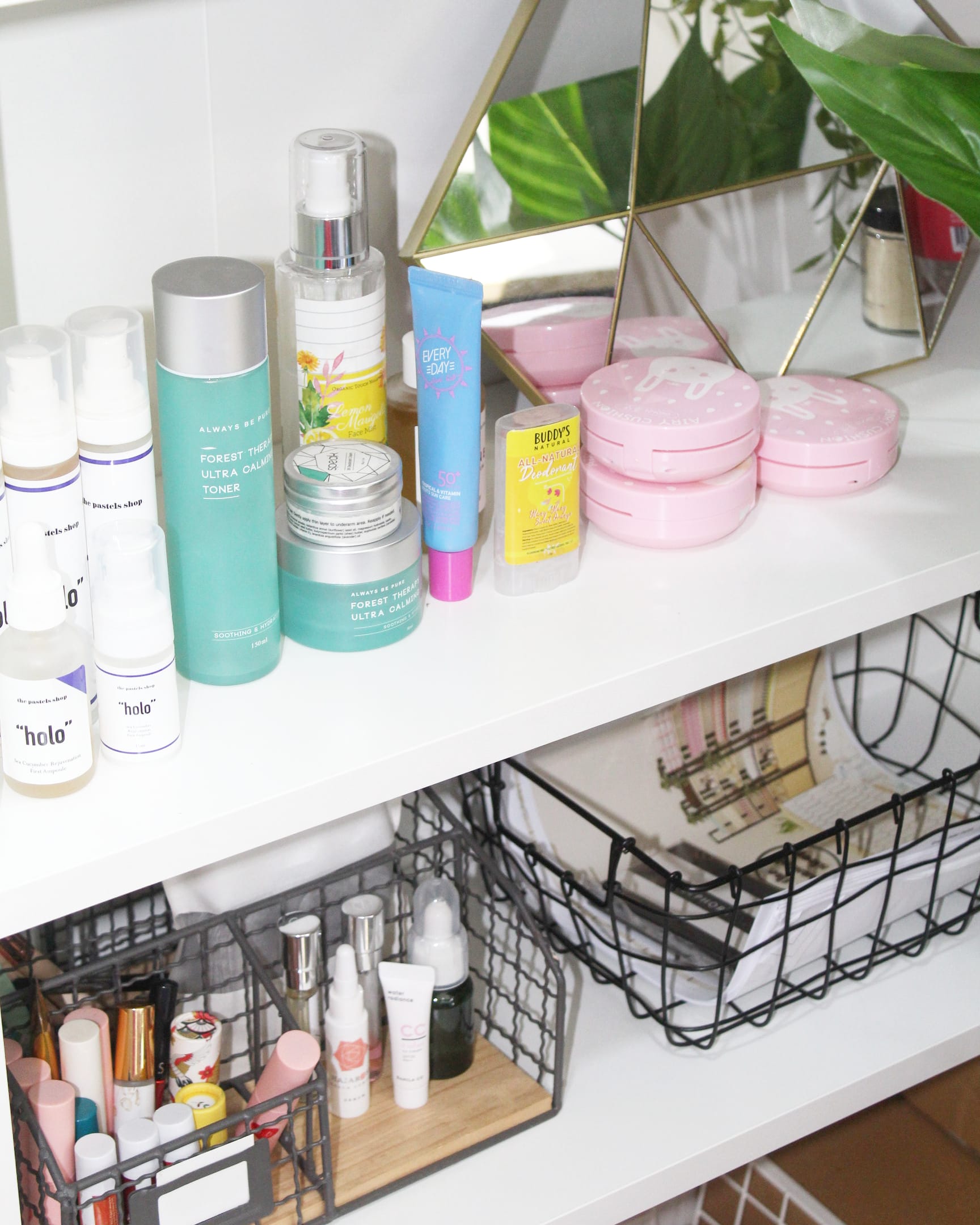 Ini sahaja koleksi Make Up Pastels. Ya. Tiada pelbagai jenis Bedak Asas, Foundation, Eyeshadow dan sebagainya kerana Pastels memang tidak gunakannya. Ada kalanya teringin untuk membeli kerana tergoda dengan bungkusan, iklan dan sebagainya...namun pasti niat akan terbatal akhirnya. Setakat ini Pastels hanya menggunakan Tone Up Cream, Lip Matte yang sama dicalit pada pipi dan bahagian atas mata dan 1 jenis Air Cushion sahaja. Masih ingat lagi Pastels pernah ceritakan kepada anda semua yang Pastels berpuasa solekan tebal sejak 2014? Ya, ia masih kekal sehingga kini.
Di bahagian atas itu pula produk yang Pastels sudah gunakan sehingga habis. Banyak HOLO, kan? Sebenarnya banyak yang sudah dihantar untuk kitar semula dan diberikan kepada orang lain sebelum benar-benar habis.
Ini pula koleksi Sample dan Sheet Mask . Semalam semasa mengemas, terfikir yang alangkah eloknya sekiranya kesemua paket kosong Sheet Mask dan Sampel yang telah digunakan disimpan di satu tempat. Jadi jika nak dirujuk semula semasa beli produk baru yang bersaiz besar nanti, lebih mudah. Atau anda boleh sahaja contengkan di belakang paket itu sebagai 'TIDAK SESUAI' agar tidak terbeli produk yang sama di kemudian hari.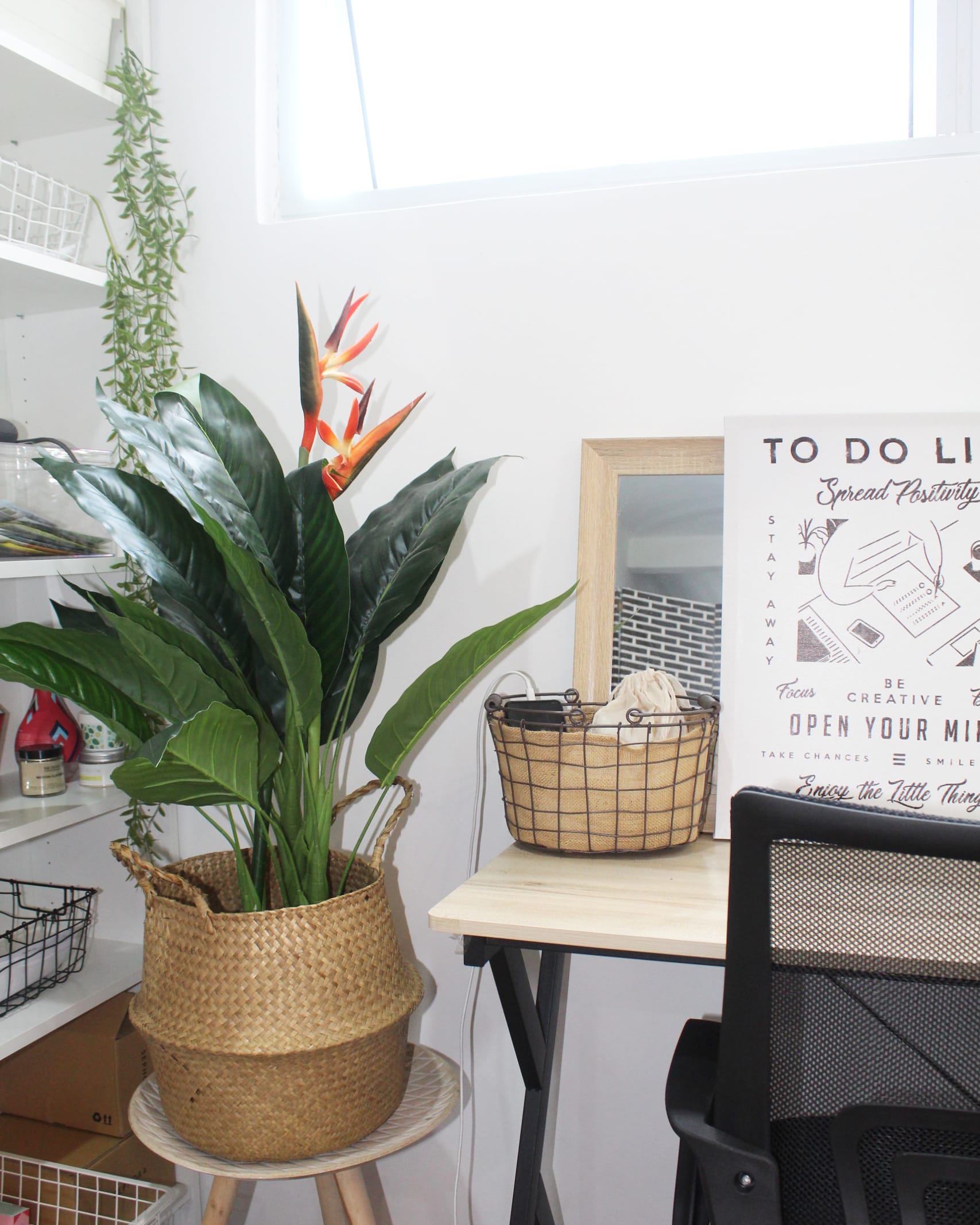 Walaupun tiada perkasasan mewah di sini, namun Pastels sangat gembira dengan apa yang ada. Yang penting keselesaan kita sendiri semasa membuat kerja. Dalam Entri yang seterusnya, Pastels akan tunjukkan pula produk-produk yang ada di rak ini dengan lebih jelas kepada anda. Produk apa yang Pastels suka, produk apa yang tidak disukai pun ada.
Love, Pastels 💚