KEGEMARAN RAMAI 💦

Apa sahaja yang bertekstur ringan atau kelihatan seperti gel pasti menerima permintaan ramai di Malaysia. Ini kerana cuaca Malaysia yang panas, dan kecenderungan kulit kita menjadi berminyak serta berpeluh menuntut kita menggunakan pelembap yang lebih ringan.

Tidak salah sebenarnya menggunakan Soothing Gel jika 'kena' pada gayanya. Apakah jenama Soothing Gel kegemaran anda / yang pernah anda cuba? Kongsikan dengan kami!
BETUL KE SOOTHING GEL MENGERINGKAN MUKA? 🤔

Mitos ini sudah lama berlegar-legar di komuniti kita, kan? Sebenarnya, kebanyakan Soothing gel (tidak semua) tidak mengandungi bahan pelembap bersifat Occlusive & Emollient, dan hanya terdiri daripada Humectant seperti Hyaluronic Acid / Sodium Hyaluronate.

Jika tadi Pastels dah ingatkan selepas pemakaian Hyaluronic Acid / Sodium Hyaluronate anda WAJIB ikuti dengan pelembap. Jadi, konsepnya samalah seperti pemakaian Soothing Gel. Ia perlukan pelembap selepasnya. Jika tidak, kulit akan menjadi kering.

Baru-baru ini The Pastels Shop ada membawa masuk Soothing Gel terbaru daripada 3W Clinic! 100ppm Hyaluronic Acid 98% sangat membantu dlm mengembalikan kelembapan serta kelembutan kulit anda. Harga pun sangat mampu milik 💦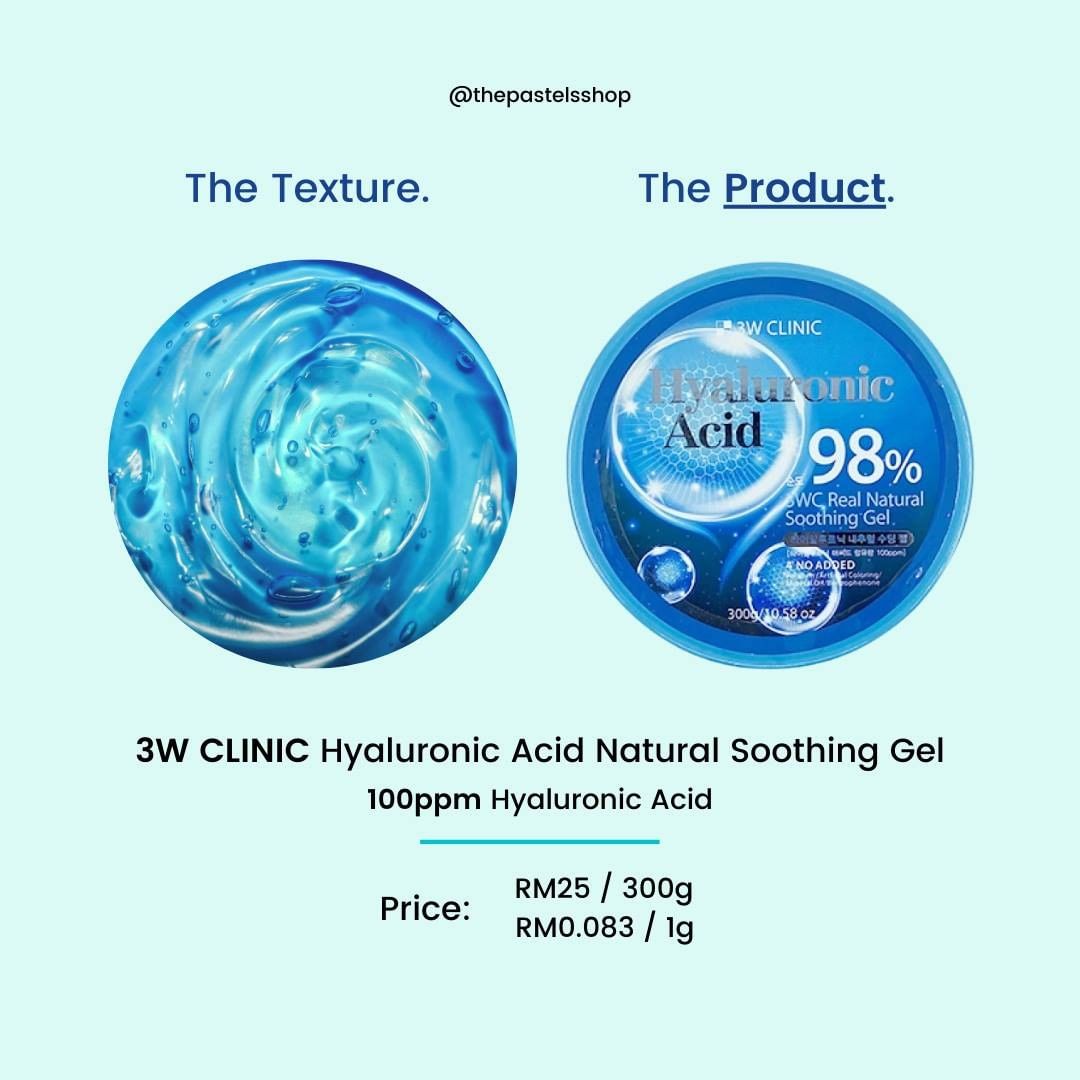 2 lagi Soothing Gel terbaru di The Pastels Shop, yay!

Perbezaan paling ketara yang Pastels nampak di antara dua jenis ini adalah:

1. Snail Mucus Soothing Gel: kandungan Snail Secretion Filtrate lebih kurang berbanding Black Snail, tetapi mempunya plant extract yang agak banyak seperti Hibiscus Flower, Peppermint, Lemon Balm dan Chamomile 😍
2. Black Snail Soothing Gel pula mengandungi 100ppm Snail Secretion Filtrate, jauh lebih banyak!

Layari website/kesemua platform jualan kami untuk kandungan penuh produk atau pembelian ✨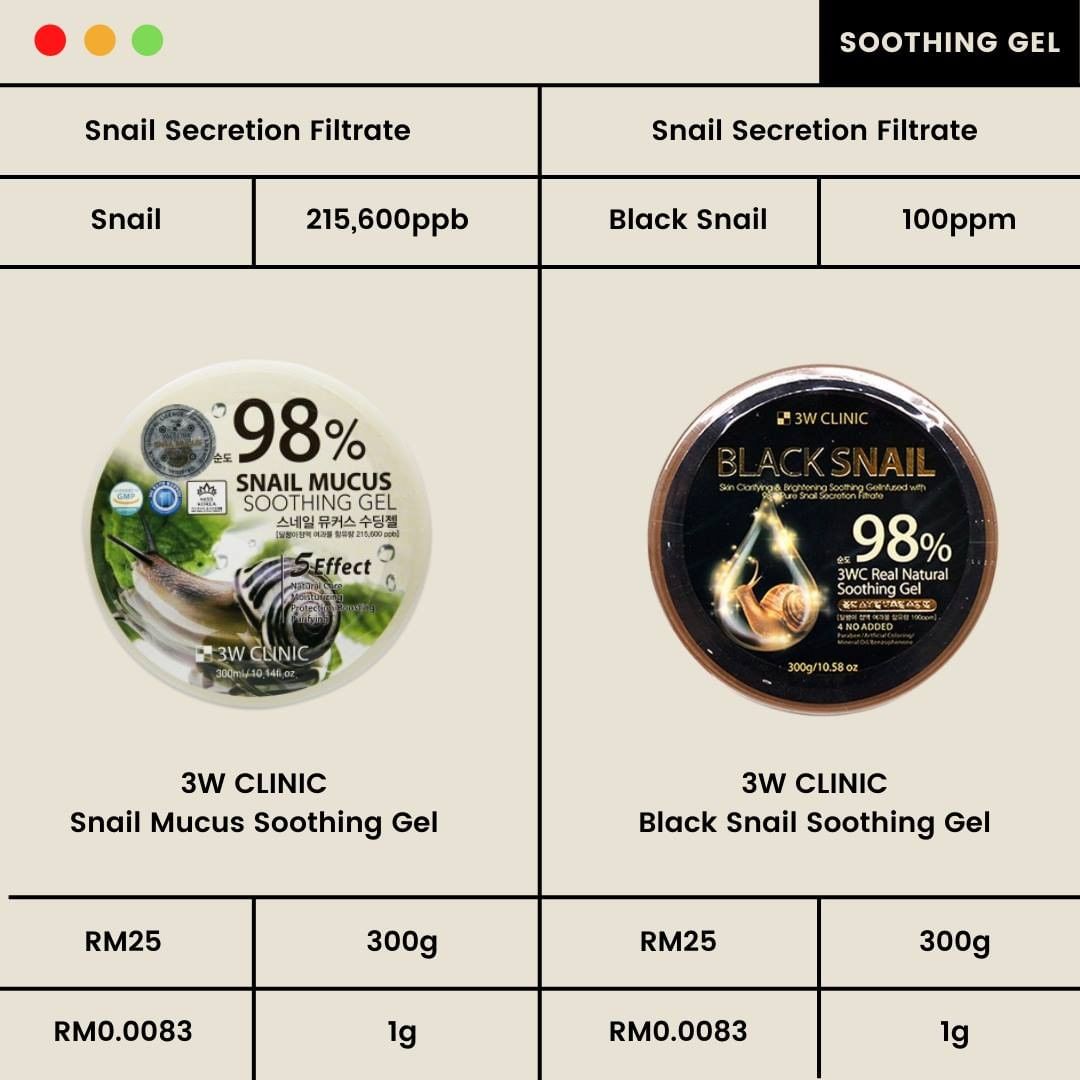 Dalam Info Feed sebelum ini, Pastels ada ingatkan anda semua yang pemakaian Soothing Gel haruslah diikuti dengan bahan pelembap yang bersifat Occlusive atau Emollient. Ini bagi memastikan kelembapan dapat dibekalkan dengan baik dan kekal di wajah.

Jadi, lepas pakai Soothing Gel, anda boleh ikuti dengan produk-produk berikut. Jangan pakai Soothing Gel semata-mata sebagai pelembap, kerana ia tidak mencukupi okay?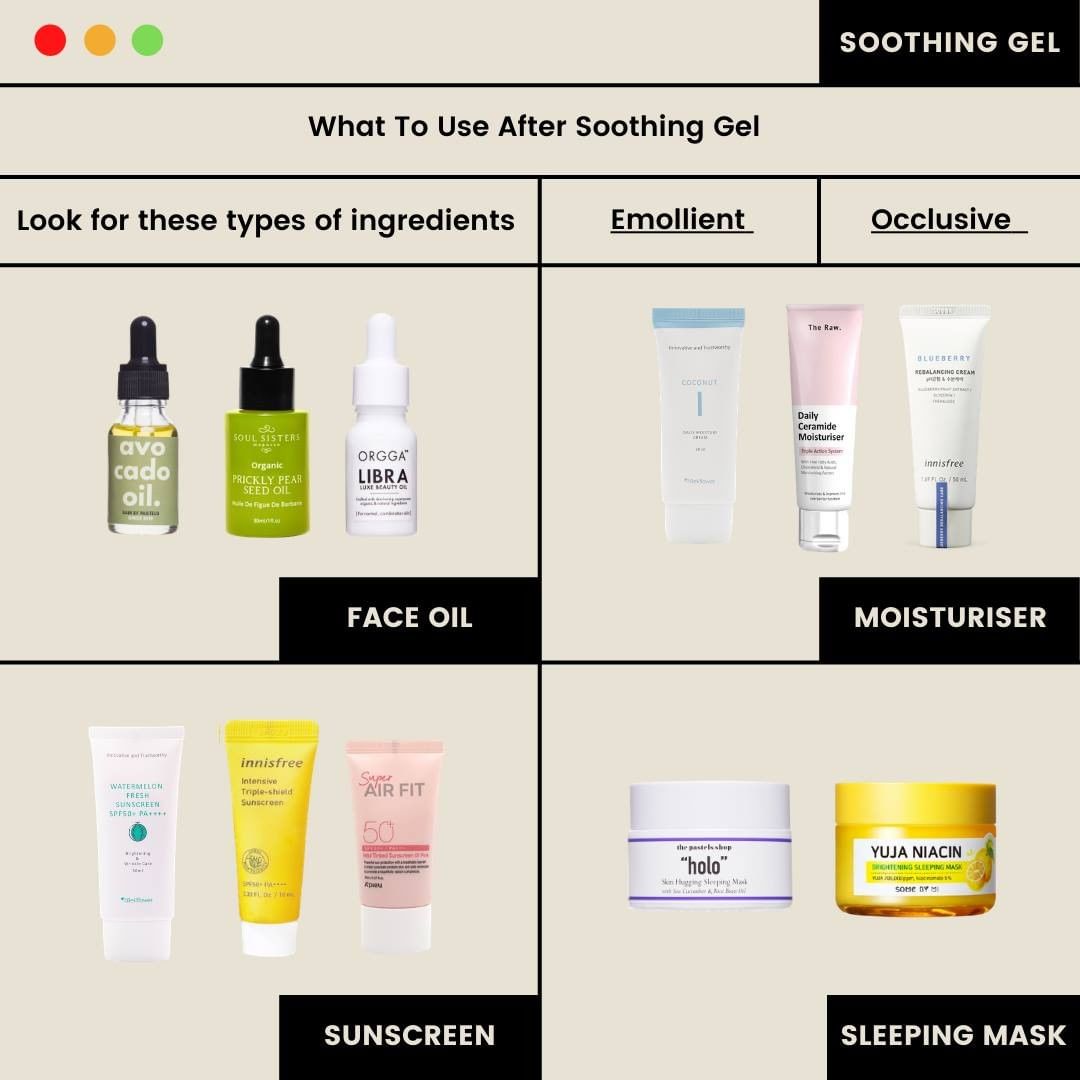 "Pastels, Pastels cakap Soothing Gel tak boleh dibuat moisturiser, tp kenapa dia ada dalam kategori Moisturizer? Pening lah... 😭"

Okay, jangan bimbang✨di sini Pastels jelaskan:

Moisturizer yg baik terdiri dari dua komposisi, iaitu Humectant dan Emollient/Occlusive. Manakala Soothing gel kebanyakannya mengandungi Humectant sahaja. Jadi, tiada Emollient /Occlusive yg dpt menghalang kelembapan dari hilang ke udara.

Bagi mereka yg mempunyai kulit berminyak, anda masih perlukan bahan emollient /occlusive daripada produk topikal namun kuantitinya KURANG berbanding mereka berkulit kering. Ini kerana kulit anda menghasilkan minyaknya tersendiri.

Tapi, tak semua Soothing Gel tidak mempunyai Emollient /Occlusive. Sebab itulah penting bagi anda membaca ingredients. Tidak pasti? Di website kami sudah disertakan fungsi setiap bahan dalam sesuatu produk.

Di sini Pastels sediakan 'resipi' bagi memudahkan anda. Semoga bermanfaat ✨