THE PASTELS SHOP "JICAMA" pH Balanced Gentle Gel Cleanser 300ml (in new packaging)
Regular price

RM 0.00

Sale price

RM 69.00
Share
Shipping Terms
Ready Stock: 3-7 working days
Pre Order: 10-14 working days
Product Description
Upsize your Jicama Cleanser!
A gel-to-foam-pH-balanced cleanser with a unique combination of 4 undeniably mild Surfactants - Cocamidopropyl Betaine, Potassium Cocoyl Glycinate, Potassium Cocoate and Sodium Lauroyl Sarcosinate. The highlight is this rare ingredient which is Pachyrrhizus Erosus (Root) Extract as known as Sengkuang in the local community or Jicama by many. Rich in Vitamin C and B, it brightens skin effectively with its antioxidant ability. Witch hazel is used to remove excess oil that can be seen in acne-prone skin. It is rich in tannins, which act as a natural astringent on the skin that can help to sop up excess oil & reduce pores visibilities. The balance between Gentle & Deep Cleansing power in this Jicama Cleanser is truly one of a kind.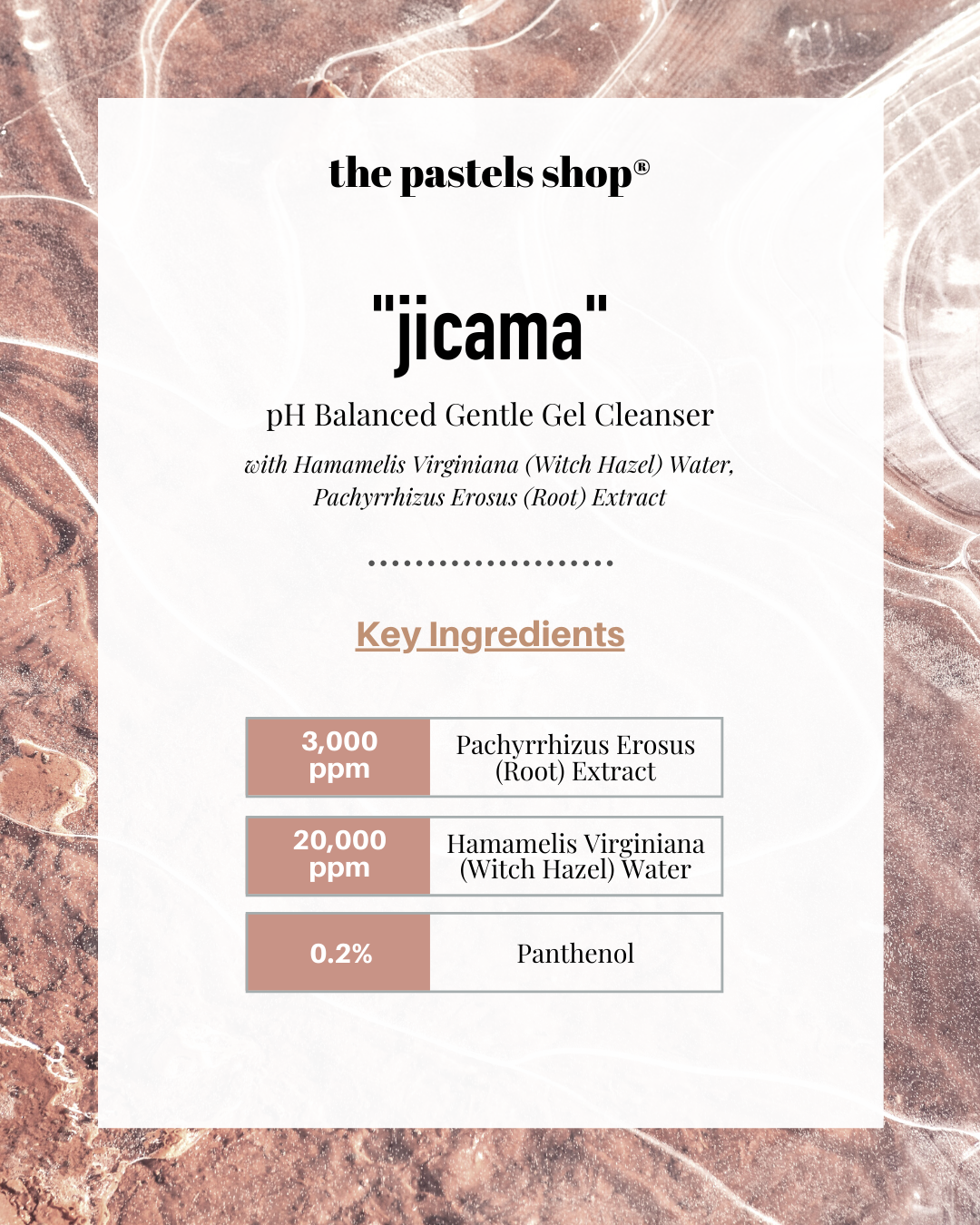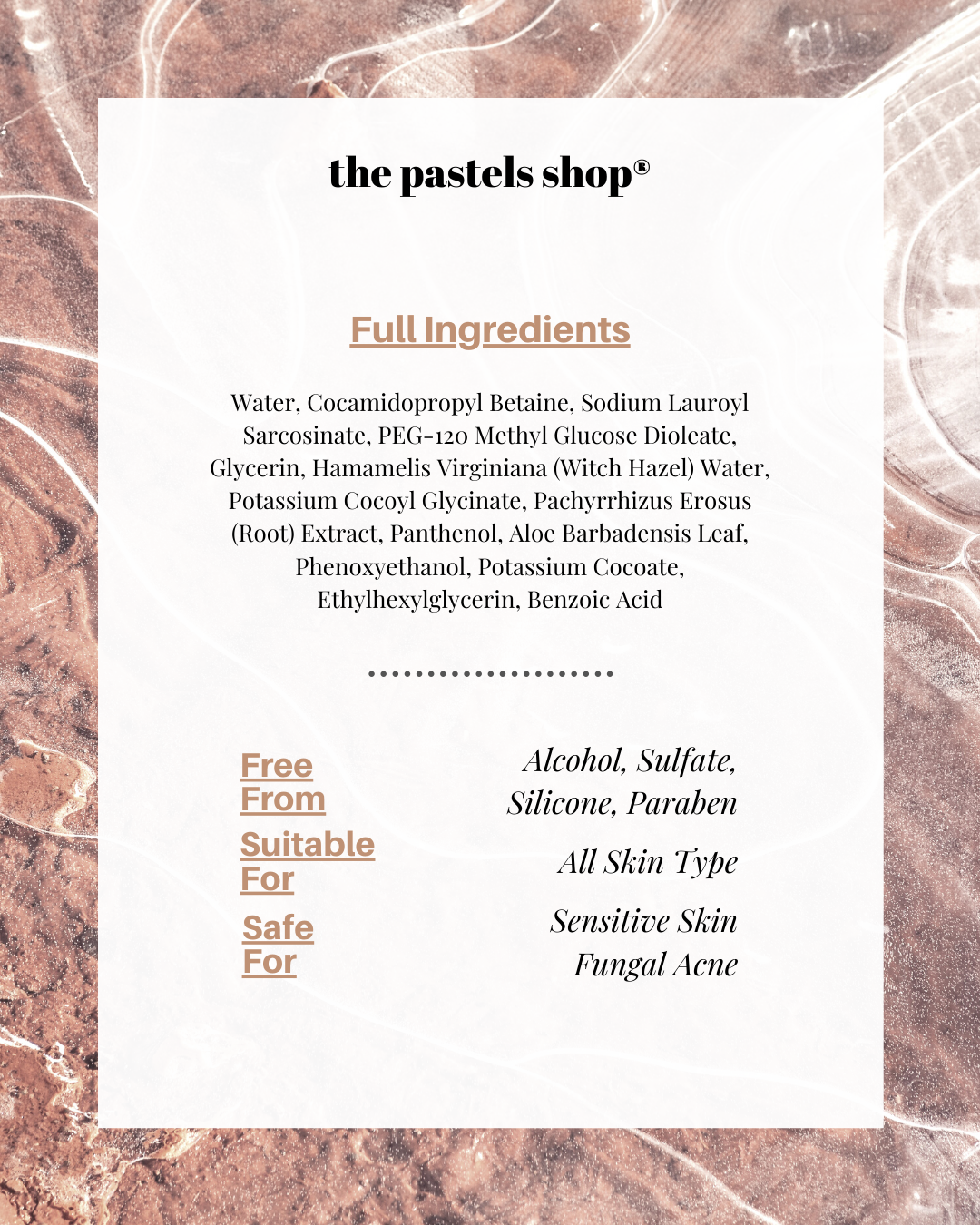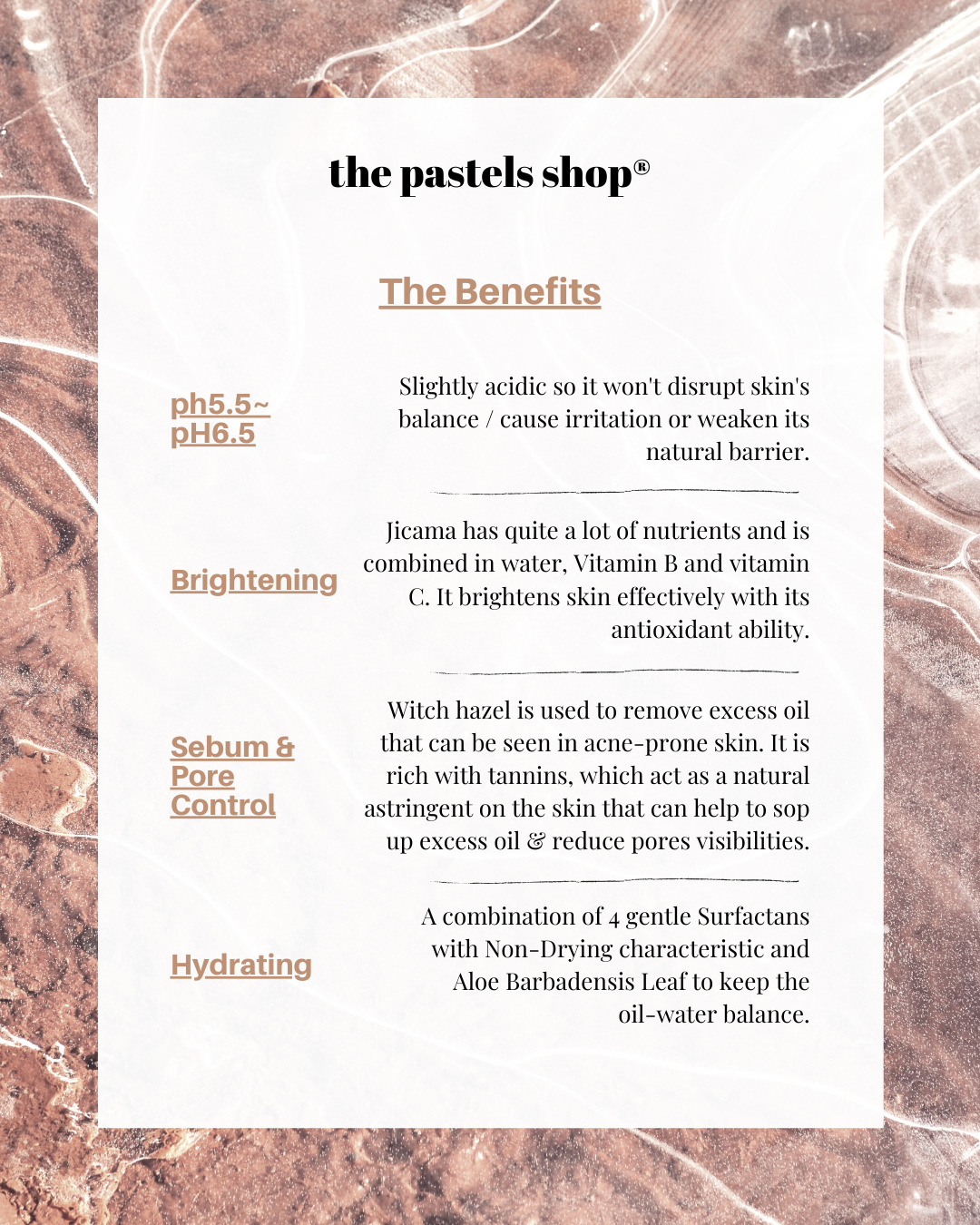 How To Use
Squeeze an appropriate amount on your palm and lather well. Smoothly massage over your face and thoroughly rinse with lukewarm water.
Ingredients
Water, Cocamidopropyl Betaine, Sodium Lauroyl Sarcosinate, PEG-120 Methyl Glucose Dioleate, Glycerin, Hamamelis Virginiana (Witch Hazel) Water, Potassium Cocoyl Glycinate, Pachyrrhizus Erosus (Root) Extract, Panthenol, Aloe Barbadensis Leaf, Phenoxyethanol, Potassium Cocoate, Ethylhexylglycerin, Benzoic Acid
EWG
CIR
Ingredient Name & Cosmetic Functions
Notes

1

Water
(Solvent)



4

B

Cocamidopropyl Betaine
(Skin Conditioning,Viscosity Controlling,Viscosity Increasing Agent,Antistatic Agent,Hair Conditioning,Sufactant,Foam Boosting)



3

B

Sodium Lauroyl Sarcosinate
(Skin Conditioning,Surfactant,Viscosity Controlling,Emulsifying,Antistatic Agent,Hair Conditioning,Cleansing,Foaming)



3

A

PEG-120 Methyl Glucose Dioleate
(Emulsifying,Sufactant)



2

A

Glycerin
(Denaturant,Fragrance,Hair Conditioning,Humectant,Skin Protecting,Viscosity Decreasing Agent,Perfuming,Solvent)
Good for Dry Skin

1

Hamamelis Virginiana (Witch Hazel) Water
(Skin Conditioning,Drug Astringent - Skin Protecting)
Good for Oily Skin

1

B

Potassium Cocoyl Glycinate
(Surfactant,Hair Conditioning)



Pachyrrhizus Erosus Root Extract
(Skin Conditioning)



1

A

Panthenol
(Skin Conditioning,Antistatic Agent,Hair Conditioning)
Promotes Wound Healing Good for Dry Skin

B

Aloe Barbadensis Leaf
(Masking)
Good for Sensitive Skin

4

A

Phenoxyethanol
(Fragrance,Preservative)



1

A

Potassium Cocoate
(Surfactant,Emulsifying,Sufactant)



1

A

Ethylhexylglycerin
(Skin Conditioning,Deodorant)



3

A

Benzoic Acid
(Masking,Fragrance,Bulking Agent,Ph Adjuster,Preservative)
Bad for Sensitive Skin